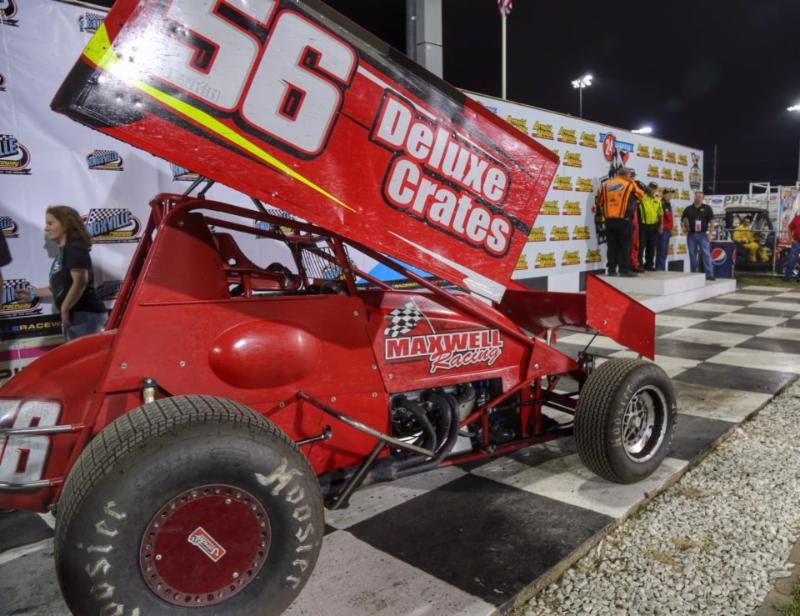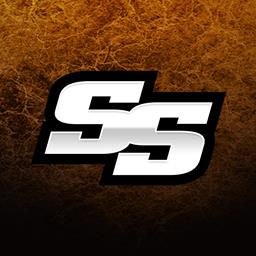 ---
Davey Heskin Wins Night #1
KNOXVILLE, Iowa - August 1, 2014
After several small rain delays, the 24th annual Arnold Motor Supply 360 Knoxville Nationals kicked off Thursday night with Davey Heskin
taking his first 360cid Sprint Car victory at the Knoxville Raceway over the hard charging Jason Johnson.
"It was a fast track tonight, we were just balls to the wall out there," said a nearly breathless Davey Heskin in Victory Lane. "We've had a mediocre season so far. I feel like so to park it here...even on a prelim night...it's really special."
Jumping to the lead on the start, Heskin found the tail of the field on Lap 8.
Moving to second on Lap 6, traffic allowed Jason Johnson to close the gap on Heskin. Traffic would play into the hands of the Minnesota veteran, as all roads to the No. 56 were blocked before the caution waved on Lap 11 for the stalled No. 29 of Russ Hall
Having to play out the restart twice due to debris, Johnson stayed close to challenge for the lead but would slowly watch the Deluxe Crates No. 56 begin to pull away.
Working again amongst the back markers in the closing laps, Jason Johnson would seize the opportunity to strike. Taking the white flag, the Stenhouse, Jr. Racing / Curb Agajanian Performance Group No. 41 made the bid for the lead, but would come up short as Davey Heskin grabbed the win.
"I needed lapped traffic for sure," commented second finishing Jason Johnson. "He left the door open for me on the white flag lap; but the driver missed the line."
Tony Bruce, Jr. rebounded to finish third after a test run this past Saturday night that resulted in a fifteenth place finish. Current Knoxville Raceway 360cid Sprint Car point's leader, Joe Beaver, finished fourth from eighth with Lee Grosz crossing fifth.
Casey Friedrichsen stated on the pole but slipped to finish sixth. Jamie Ball came from tenth to seventh with Kevin Swindell from twelfth to eighth. Brady Bacon crossed ninth with Dustin Selvage from nineteenth to finish tenth as the night's Hard Charger.
Thursday night's opener had 47 drivers draw in. Five Heat Races saw Kevin Swindell, Randi Miller, Jason Johnson, Cole Wood, and Ryan Roberts earning wins. The night's C-Main was scrapped and remaining drivers moved to the B-Main with Nate Van Haaften winning.
Qualifying saw Joe Beaver fastest at 15.906 seconds. Beaver also emerged as the top point getter with 491 points. He was followed by Bruce (476), Johnson (474), Heskin (471) and Grosz (467).
Night two of the 24th Arnold Motor Supply 360 Nationals begins at 7:15 P.M. (CST) with Qualifying on Friday, August 1. For continued updates and results from the Arnold Motor Supply log onto ascsracing.com and knoxvilleraceway.com
Points after night 1
1.53, Joe Beaver - 491
2.18, Tony Bruce Jr. - 476
3.41, Jason Johnson - 474
4.56, Davey Heskin - 471
5.4J, Lee Grosz - 467
6.20, Casey Friedrichsen - 459
7.28, Jonathan Cornell - 454
8.5J, Jamie Ball - 451
9.71, Kevin Swindell - 446
10.10V, Calvin Landis - 446
11.99, Brady Bacon - 445
12.1m, Danny Lasoski - 443
13.3, Nate Van Haaften - 440
14.22H, Randy Hannagan - 438
15.1J, Danny Jennings - 431
16.18R, Ryan Roberts - 428
17.14R, Any Gregg - 422
18.95, Matt Covington - 422
19.17wx, Cole Wood - 416
20.90, Randi Miller - 414
21.7K, Dustin Selvage - 409
22.10H, Danny Holtgraver - 407
23.29, Russ Hall - 406
24.3P, Sawyer Phillips - 400
25.35L, Cody Ledger - 392
26.44, Chris Martin - 385
27.27, Carson McCarl - 384
28.9JR, Derek Hagar - 383
29.1, Justin Henderson - 381
30.05, Brad Loyet - 359
31.2m, Matt Moro - 358
32.33, Alan Zoutte - 356
33.09, Matt Juhl - 350
34.3H, Brandon Hanks - 350
35.45x, Johnny Herrera - 345
36.33v, Mike Van Haaften - 339
37.23KS, Steve Block - 336
38.47, Brant O'Banion - 336
39.47AU, Trevor Reynolds - 327
40.27B, Patrick Bourke - 325
41.9x, Jared Goerges - 313
42.4x, Shawn Petersen - 312
43.83, Dave Getchell - 312
44.12m, James Mosher - 301
45.21R, Ryan Kitchen - 280
46.87, Aaron Reutzel - 273
47.2K, Kevin Ingle - 269
For tickets or more information visit knoxvilleraceway.com or call 641-842-5431.
Contact:
Brian Stickel,
Knoxville Raceway GM
bstickel@knoxvilleraceway.com
(641) 842-5431
Back to News