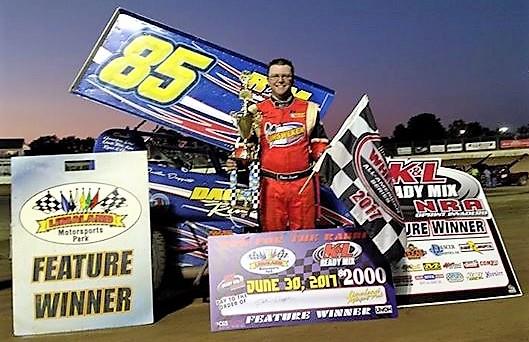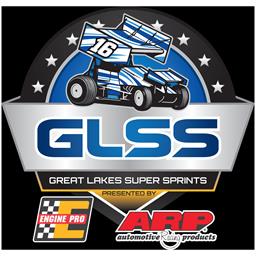 7/28/2017
GLSS-Great Lakes Super Sprints
---
DAGGETT WINS RUN FOR THE RABBIT for 2nd WIN IN A ROW
Lima, OH – The 17th Annual Run for the Rabbit, honoring the late Travis "The Rabbit" Miller was won by Portland, MI native, Dustin "DD" Daggett in front of a packed stands.
With 23 cars, representing Canada, MI, IN and OH, in the pits for the GLSS/NRA co-sanctioned race a couple brief showers threatened the "Run for the Rabbit" for the second time this year. However, Mother Nature co-operated and cleared off enough to get the races in.
As cars rolled on the track for single car qualifying, Shawn Dancer (Delphos, OH) would turn in the fast time for the evening of 11.472. Jared Horstman (Cloverdale, OH), Gregg Dalman (Bellvue, MI), Mitch Brown (Brantford, ON) and Devon Dobie (Wapakoneta, OH) rounded out the top 5. Amazingly and surprisingly the field of 23 cars were only separated by 0.91 seconds, ranging from 11.472 to 12.382.
Heat 1 was won by Jake Brown (Brantford, ON) followed by his brother, Mitch Brown, Dancer, Tim Allison (Cridersville, OH) and Jarrod DeLong (Cridersville, OH) rounding out the top 5.
Randy Hannagan (Pittsboro, IN) took the checkered flag in Heat 2, with Horstman, Daggett, Dobie and Chase Ridenour (Perry, MI) rounding out the top 5.
For the 3rd and final heat race, J.R. Stewart of Bellfontaine, OH wins over Phil Gressman (Helena, OH), Dalman, Ronny Blair (Troy, OH) and Brandon Ferguson (Sidney, OH).
With a decision to run no B-Main, the field was set for the feature as Horstman and Stewart led the field on the track. Before the green flag could fly, points leader #17 Horstman ran into problems with fluids dumping from his car and sending him to the work area. With repairs made, Horstman re-fired his car only to have the problem still forcing him from the track. With the #17 being black flagged and being pushed off twice already, the green flag was out and the field was set.
Moving up immediately from the 3rd row, Hannagan took the early lead and seemed to be in control of the race. Starting in the 4th row in the 8th position, Daggett slowly reeled in Hannagan and with 10 laps to go passed for the lead. Daggett was able to hold off the field and take the checkered flag winning the 17th Annual "Race for the Rabbit".
A hard charging #5 car, driven by Jeff Williams (Belle Center, OH) drove his way up 12 positions from 22nd to 10th! Also charging up from the back in 23rd was Ed Neumeister (Upper Sandusky, OH) who drove his way into a 14th place finish.
Our next race will be at I-96 Speedway near Lake Odessa, MI on Friday, August 18th. For more information about the NCRA Great Lakes Super Sprints, go to our website or follow us on Facebook.
---
Article Credit: Barry M. Marlow
Submitted By: Barry Marlow
Article Media
Back to News