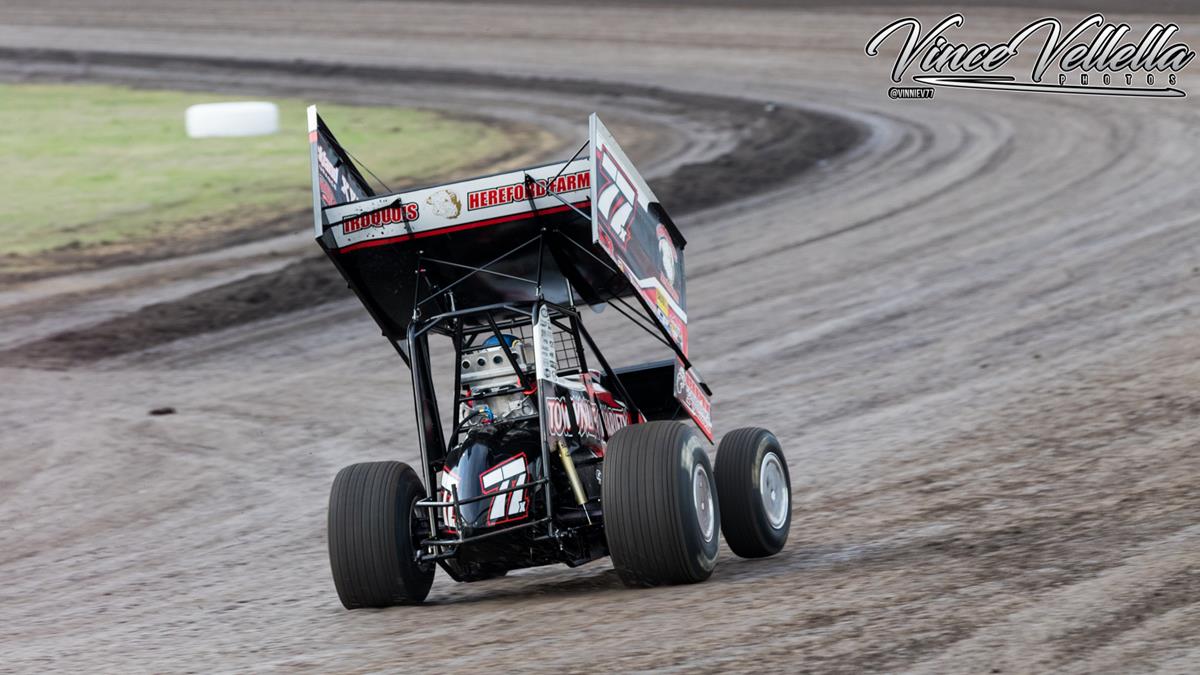 4/17/2018
Inside Line Promotions
---
Hill Heading to Ohio for NRA Sprint Invaders Double at Limaland and Eldora
(Photo by Vince Vellella Photos)
Inside Line Promotions – SIX NATIONS, Ontario, Canada (April 17, 2018) – Alex Hill is satisfied with her racing thus far this season and she is looking forward to returning to the track this weekend after having a weekend off.
"We're pretty happy with our results so far this year, except for our last race when we crashed," said Hill, who had qualified for the A Main at every race this year before her most recent outing at Texas Motor Speedway in Fort Worth, Texas, where her car flipped in the heat race.
"Being a teammate to Sam (Hafertepe Jr.) has really helped. He knows so much about racing and I've already learned a lot about it from him."
With the Lucas Oil ASCS National Tour presented by SawBlade.com off this weekend, Hill will tackle a couple of races in Ohio with the K&L Ready Mix NRA Sprint Invaders. She'll race on Friday at Limaland Motorsports Park in Lima and on Saturday at Eldora Speedway near Rossburg.
"I'm excited about returning to a couple of tracks that I enjoy racing at," she said. "Limaland is a fun, little track – a bullring. I haven't raced at a track like that this year. And it's always exciting to go to Eldora. It's the opposite – big and fast. I haven't been to either of those tracks for a while so it will be nice to get back there."
Hill was a little banged up after her crash in Texas, but she's doing well now.
"I feel good," she said. "I was sore for a little while, but that's all better now. I just have a couple of bruises, but I feel fine."
SEASON STATS –
6 races, 0 wins, 0 top fives, 0 top 10s, 0 top 15s, 3 top 20s
UP NEXT –
Friday at Limaland Motorsports Park in Lima, Ohio, and Saturday at Eldora Speedway near Rossburg, Ohio, with the K&L Ready Mix NRA Sprint Invaders
MEDIA LINKS –
Website: http://www.HillsRacingTeam.com
Twitter: https://twitter.com/HillsRacingTeam
Facebook: https://www.facebook.com/hillsracing/
SPONSOR SPOTLIGHT – Cool Chassis
Cool Chassis is Australia's leading sprint car chassis manufacturer. For more information, visit https://www.facebook.com/CoolChassis/.
"Cool Chassis makes great race cars that are safe and comfortable," Hill said. "We enjoy working with them."
Hill would also like to thank Townline Variety, BearPaw Gas and Convenience, Iroquois Hereford Farms, Tony Stewart Racing, Ackland Insurance, Creative Edge, Lettrage Pixel, Slade Shock Technologies, XYZ Machining, Fisher Racing Engines, Gaerte/Topp Performance Race Products, Strodes BBQ & Deli, Allstar Performance, PPM Racing Products, Keizer Aluminum Wheels, PAC Racing Springs, Wilwood, DMI, MicroBlue, Vortex Wings, Saldana Racing Products, Kinsler Fuel Injection, KSE Racing Products and Brown & Miller Racing Solutions for their continued support.
INSIDE LINE PROMOTIONS –
Inside Line Promotions specializes in affordable public relations and media management for motor sports drivers, teams, sponsors, tracks, series, events, organizations and manufacturers. ILP Founder Shawn Miller leverages professional journalism with new media technologies and social networking to improve your exposure and the return on investment for your sponsors.
To meet the media relations needs of your program by joining Team ILP, contact Shawn at 541-510-3663 or Shawn@InsideLinePromotions.com. For more information on Inside Line Promotions, visit http://www.InsideLinePromotions.com
---
Article Credit: Inside Line Promotions
Submitted By: Shawn Miller
Back to News