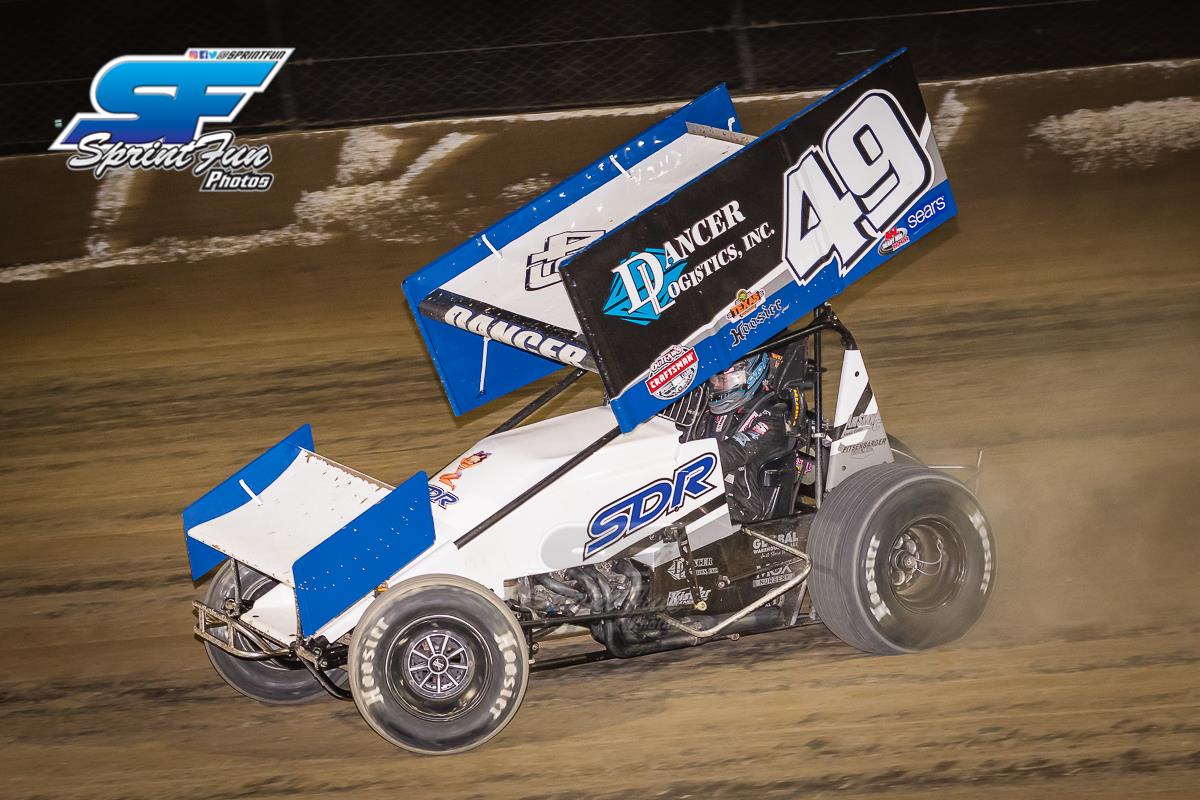 5/29/2018
Inside Line Promotions
---
Dancer Garners Two Podium Finishes With K&L Ready Mix NRA Sprint Invaders
(Photo by SprintFun Photos)
Inside Line Promotions – WAYNESFIELD, Ohio (May 29, 2018) – Shawn Dancer competed with the K&L Ready Mix NRA Sprint Invaders twice last weekend and he earned a podium finish both nights.
"We were at Limaland Motorsports Park on Friday," he said. "Lima, Ohio, isn't far from us at all so Limaland is basically our home track. We always enjoy racing there."
Dancer qualified 12th quickest, which started him on the pole of a heat race. He fell to third at one point, but made his way back to the front to snag the heat race win.
"Our heat race win put us in the redraw for the feature and we drew the No. 4," he said. "The track was pretty slick and we fell back a couple positions. We made our way to third and held that position until the end."
Dancer returned to action on Sunday at Waynesfield Raceway Park. He qualified 11th quickest and started second in his heat race.
"We won our heat race again," he said. "We got our engine back from Kistler's and it was tuned up. That put us in the redraw again and we drew the No. 3 for the A Main."
Dancer, who started the main event on the inside of the second row, fell to fourth and ran there for a while. However, he was able to make the pass for third and started closing in on second before he got overaggressive. Dancer finished third for the second night of the weekend.
"There was a lot of good competition at Waynesfield, especially since the All Stars were there," he said. "We were happy with our finish. We couldn't be too mad finishing behind Brady Bacon and Christopher Bell. They're both really good drivers."
Dancer will once again race with the NRA Sprint Invaders this Friday at Limaland Motorsports Park during the Run for the Rabbit race.
QUICK RESULTS –
May 25 – Limaland Motorsports Park in Lima, Ohio – Qualifying: 12; Heat race: 1 (1); Feature: 3 (4).
May 27 – Waynesfield Raceway Park in Waynesfield, Ohio – Qualifying: 11: Heat race: 1 (2); Feature: 3 (3).
SEASON STATS –
10 races, 0 wins, 2 top fives, 4 top 10s, 5 top 15s, 6 top 20s
UP NEXT –
Friday at Limaland Motorsports Park in Lima, Ohio, with the K&L Ready Mix NRA Sprint Invaders
MEDIA LINKS –
Twitter: https://twitter.com/shawn_dancer49
Facebook: https://www.facebook.com/ShawnDancerRacing/
SPONSOR SPOTLIGHT – Pitsenbarger Supply
Pitsenbarger Supply is a Carquest auto parts dealer located in Delphos, Ohio.
"Pitsenbarger Supply has been helping us out for a few years now," Dancer said. "They have great deals and great parts. They're awesome people and they've always been there when we needed them."
Dancer would also like to thank Dancer Logistics, Inc., Global Warehousing, King Racing Products, Amshaw Service Center, Kistler Engines, Mox Nursery, Friedrich Lawn Care and FSR Radiators for their continued support.
INSIDE LINE PROMOTIONS –
Inside Line Promotions specializes in affordable public relations and media management for motor sports drivers, teams, sponsors, tracks, series, events, organizations and manufacturers. ILP Founder Shawn Miller leverages professional journalism with new media technologies and social networking to improve your exposure and the return on investment for your sponsors.
To meet the media relations needs of your program by joining Team ILP, contact Shawn at 541-510-3663 or Shawn@InsideLinePromotions.com. For more information on Inside Line Promotions, visit http://www.InsideLinePromotions.com.
---
Article Credit: Inside Line Promotions
Submitted By: Shawn Miller
Back to News